On the Street – Youth SSVP Social Justice Project 2018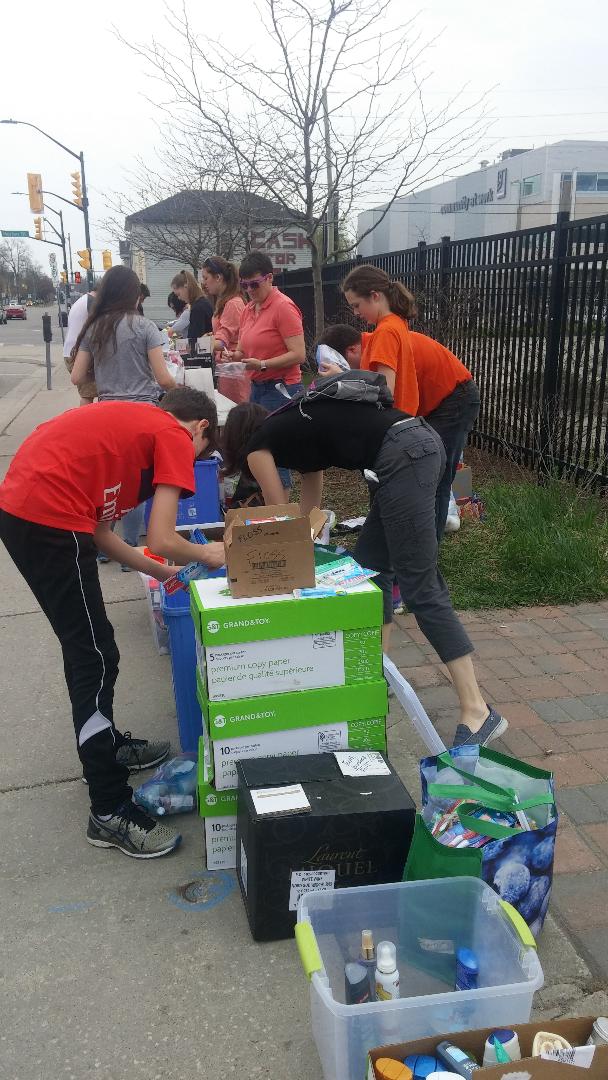 We take for granted a lot of simple aspects in our daily life. Most of us are so focused on schedules and plans so that everything fits perfectly into place that we never think of other outcomes. For our brothers and sisters that dwell on the streets, their life is about survival; there is a constant fight so that they will continue to go on day by day living as best as possible. A lot of the struggles they face, we have no idea of knowing because we always have a way of escaping. They find themselves in situations they do not wish for or choose, it's just the ways of life and how everything falls into place. Our job as Vincentians is to try and help as best as possible so that the lives of the less fortunate are even remotely changed because any small act can make a big difference for someone that is struggling in life's battle.
Back in May, our team of Youth and Young Adults in the Society of St. Vincent de Paul planned and participated in our second Annual "On the Street" program. Our affiliate high school and elementary schools (St. Andre Bessette, Notre Dame, St. Marguerite d'Youville) gathered together a vast array of personal hygiene products (soap, shampoo, razors, etc.), tarps, clothes, medicinal supplies, food and many other everyday products that our friends living on the street need but lack. The extremely generous donations of these items were then sorted out by our Executive team into dozens of boxes.
On Sunday, May 6th at 1:00 pm a group of our members and their families set up the boxes on the corner of Horton Street and Wellington Road in front of the Salvation Army, Centre of Hope and handed out the items from 2:00- 3:45 pm, serving 175-200 people. What was absolutely incredible about the event is that it is completely up to the individual to pick out what they need and what they can leave for others to take. They go through the boxes with their SSVP grocery bag truly thinking about what they are lacking and if they really need what they are picking up. Some beautiful people would say things like "Well, I don't think I need this tarp but I do know so- and- so does so I'll leave it for them to come and get it". It really puts things into perspective of our own lives.
A lot of the time when I go out shopping I buy things that I may not NEED but I WANT. I go through the store picking up dozens of things that I just feel like getting. In this case, these people could choose anything they wanted from the many boxes of products but still decide to save items that they didn't truly need so others that could really use them. Ignorant people will go around saying, "Wow look at that person begging and being so lazy and greedy, he probably isn't even homeless" and we all will make assumptions about the lives of individuals that we don't even know. What we saw during this event was God working within one another... helping anyone out as best as possible. As Vincentians we try and take the time to change someone's life in small ways because positive impacts make the world a happier place for everyone.
We ask that if anyone feels called to do something out of the goodness of their heart, to follow God's word to come join us in helping those that need love. If you have any connections that can aid us in collecting more products, bringing in more schools or any other ideas for our next "On the Street" program to contact the St. Louise de Marillac Youth Conference out of Holy Family Parish. Truly anything helps.
Email address:
hfssvpyouth@gmail.com
Written by: Shelby Mulder, Co-President of SSVP Youth Conference of London
"We think sometimes that poverty is only being hungry, naked and homeless. The poverty of being unwanted, unloved and uncared for is the greatest poverty. We must start in our own homes to remedy this kind of poverty." - Mother Teresa