North of 60 News
(Published: February 26, 2020)

We are in the beginning steps for North of 60. Very soon sea containers will be dropped at various sites to be filled with food items, household needs, material and sewing products for our northern sisters and brothers.
Over the winter months, there has been continued communication between our Ontario site leaders and the Inuit site leaders. This is a vital piece to strengthening our bonds – helping to truly create a long distance family.
Rankin Inlet, Whale Cove, Baker Lake/Chesterfield, Naujaat, Gjoa Haven, Taloyoak, Kugaaruk and Arivat will ALL receive food again this summer.
Dates and times of departure from the port in Montreal have not been determined – the ice is plentiful and thick yet.
Best News…
Sunday February 23rd, Southern Ontario had a surprise visit from Fr. Daniel and the twins from Naujaat and Lena and Luann from Whale Cove. They had just completed attending a Convention in Hamilton for Youth and Youth leaders - our good fortune. We shared many hugs, even more laughter and we actually did chat.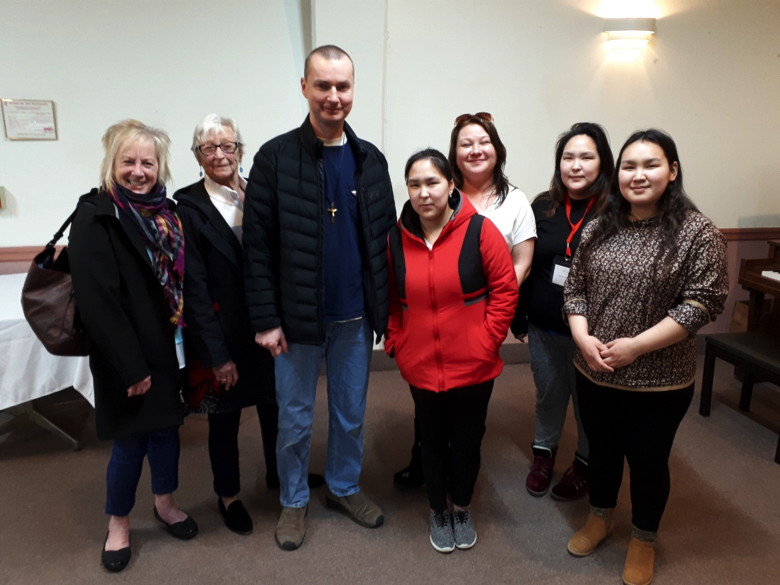 This photo was taken Sunday…from left to right: Me, Marg, Fr. Daniel, Reena, and in the back we have Lena, Diana, and Luann.
Margaret Lafontaine, the site coordinator for Whale Cove at St Raphael's, asked our Northern friends to drop by. It just so happened that the Knights were having a parish breakfast which allowed many parishioners to welcome our friends. The opportunity to be face-to face is invaluable.
Our time was indeed short, but the bonds made that day will be everlasting.
Our weather on Sunday was their summer weather… but they still missed home.
Stay tuned – more action and news will come.
Pegg Leroux
Chair of North of 60