Twinning
Twinning is a 'special work' of the Society of Saint Vincent de Paul. It is one of fraternal union and sharing. This sharing is typically between a conference or council in a well-to-do community with a conference or council in a poor area.
Twinning allows us to serve God's will and to fulfill our own spiritual yearning to serve those in need as the body of Christ. It enables us to make a difference to our twinned brothers and sisters and fulfills our mutual needs, through the sharing of prayers, contact, and our mutual resources. Twinning also builds connections and solidarity with an international family and provides a forum for the exchange of ideas about local works.
As outlined in the International Twinning Manual, twinning has three aims:
To facilitate communication between Councils and Conferences around the world, promoting a spirit of understanding, friendship and solidarity among all Vincentians.


To help spiritually, morally and materially Councils and Conferences so as to ...

Continue to alleviate misery and hunger
Promote social justice throughout the world
Animate solidarity within the Society worldwide
Be a witness of Christian charity



To promote the establishment of new Councils and Conferences by helping them to form, and to expand.
We twin with countries outside Canada. Canadian conferences and councils may be twinned only with designated countries of the Americas. These currently include: Dominican Republic, Colombia, Guatemala, Haiti, Peru, El Salvador and Nicaragua.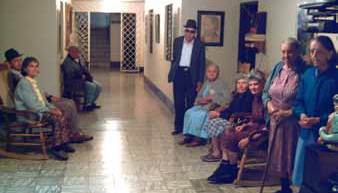 St. Joseph's Conference, Bowmanville, is twined with the Santa Ana Conference in Guarne, Colombia. The Santa Ana Conference runs a retirement home for the needy. They have been renovating and extending this home. As you can see from the pictures the home is beginning to look better. They have repaired the sewers and have built a room for group activities, as well as, extra rooms.

Barbara Twydell
St. Joseph's Conference, Bowmanville ON
(taken from: Vincenpaul, fall 2012)