The Communion of Saints † St Louise de Marillac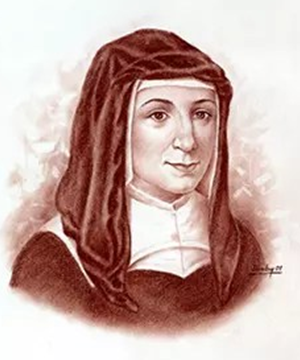 As we know from the Apostle's creed, we are connected with all the saints that lived before us. They served the Lord in many ways. Many even were martyred. Of those who served the Lord, our founders are linked to us. They are our guides and the way they lived their lives is an example to us.
One of those founders is Saint Louise de Marillac. Her feast day is May 9, the day of her beatification. Louise lived in the early 1600's. She was married and had a son. She became a widow at the age of 34 years. Vincent de Paul became her spiritual advisor. Under his guidance she began to care for the poor. Together they founded the Company of the Daughters of Charity. Under her leadership they served the poor with humility, and simplicity. That order today, with the Sisters of Charity, continue to help the sick and orphans. She was named the patron saint of social workers.
But one aspect that many do not know is that of her spiritual writings. Some of these are collected in "Praying with Louise" published by Gibson and Kneaves.
Here are some of her sayings.
To her community she wrote : What God is currently asking of you, dear Sisters, is great union and mutual tolerance, and to labor together in the work of God, with great meekness and humility.
Above all, be very gentle and courteous toward you poor. You know that they are our masters and that we much love them tenderly and respect them deeply. It is not enough for these maxims to be in our minds, we must bear witness to them by our gentle and charitable care.
As members of the Vincentian family, we have embraced our call to a vocation to God's call. Our vocation involves a way of life that many others do not see. Let us renew our efforts in helping those in need. Let us find new ways to educate others about our cause and new ways to help those in need. Let us be on fire to serve the Lord in the poor with the intercession of all the saints.
Follow the guidance of St Louise who wrote "Do the little you can very peacefully and calmly so as to allow room for the guidance of God in our lives. Do not worry about the rest."
St Louise de Marillac, Pray for us.
Deacon John Girolami
Spiritual Advisor SSVP ONRC