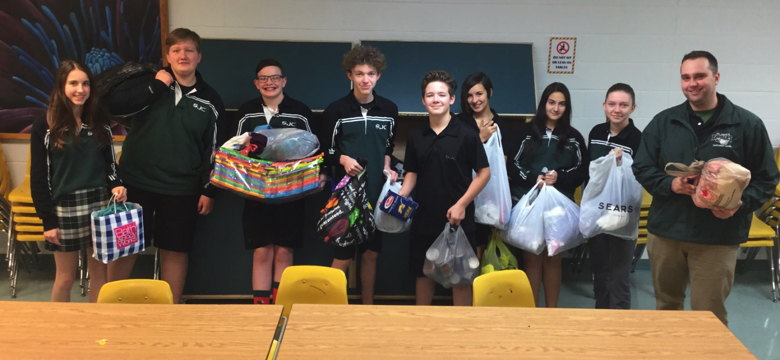 On the Street - February 2023
I first became involved with the St. Vincent de Paul, St. Louise de Marillac, Youth Conference about 6 years ago. My nieces were Youth members and helped to make bagged lunches for the homeless. I was retired and looking for a volunteer project. I thought this would be a good fit for me, so I began to make lunches as well. Before long, I started to partake in other group projects. This eventually led me to become a youth advisor and part of the executive team. As I am a retired teacher, I loved the fact that I got to work with youth again. I find our group of young people energetic, engaged and enthused about making a difference in the lives of others. This is so refreshing and fills me with the hope that we are guiding future leaders, who will be kind and empathetic towards the less fortunate.
There have been times when I have had to work outside of my comfort zone and participate in activities that were far from my private life. I have gained much personal fulfillment in reaching out to the needy. Along the way I have developed friendships with many likeminded people and this has enriched my life.
On February 12th, I was honoured to take part in my 3rd "On The Street" event, with our St. Vincent de Paul, St. Louise de Marillac, Youth Conference, London, Ontario.
God blessed us with a beautiful, sunny and crisp, wintery day, to serve our needy friends on the street. In all we had over twenty-five members and some of their families come out to help distribute coats, winter wear, blankets, tarps, backpacks, hygiene products, some packaged food items, as well as a hot bowl of chili and a bagged lunch for later.
I enjoyed meeting so many wonderful volunteers from the various groups that came out to help that day. I got to speak to some very grateful people, who were thrilled with what we do for them. I enjoyed meeting an older fellow with his 4 year old dog, Buddy. You could see the great love that he had for his pet. I loved hearing how respectfully our young people spoke to everyone, who came up to their tables. They were amazing!! A pair of brand new size 11 rubber boots with liners, just appeared in a box, out of nowhere. I went up to a man in a wheelchair and asked what size boots he wore and he said, size 10 or 11! I showed him the boots and the look on his face almost broke my heart. He said that the boots that he was wearing were ladies' boots and too small for him, but they were all that he had. He was SO grateful-said that those boots were still good, so he would pass them on. Then there was the first young man in the lineup-so very polite and personable-he was so happy with the brand new backpack on wheels, that he was able to get.
February is the Month of the Holy Family. It was so inspirational to witness our youth and their family members living their faith, by serving our brothers and sisters in Christ. In one short afternoon, we were able to touch so many lives and in return our lives were touched as well.
A quote by Mother Teresa has been my motto for several years:
"Let no one come to me without leaving better and happier."
Now, because of my involvement with this group, I feel that I am honouring her wishes, in some small way!
Written by:
Donna McCarrey
SSVP Youth Adviser
Saint Louise de Marillac Youth Conference