Brothers and sisters:
We are ambassadors for Christ...
For the Lord says, "At an acceptable time I have listened to you
and on a day of salvation I have helped you."
See, now is the acceptable time, now is the day of salvation!
(2 Corinthians, from the Ash Wednesday liturgy)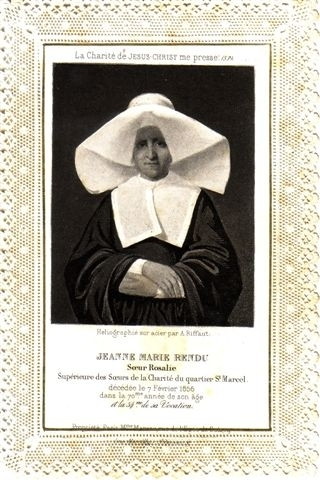 from
Vincentian History
Now is the time. Time for what? Time to celebrate the feast of our first Spiritual Advisor, Blessed Rosalie Rendu, on February 7. Time for Lent to begin on February 14. Time for me to examine myself as an 'ambassador for Christ'.
If anyone reading this hasn't at least Google searched Blessed Rosalie, I encourage you to do that. Sister Rosalie Rendu was a remarkable woman with boundless energy. Guiding the fledgling Society of Saint Vincent de Paul was but one of her accomplishments as she lived her vocation to serve Christ in His poor. My favourite quote attributed to her is: "Never have I prayed so well as in the streets." Blessed Rosalie is a role model for all Vincentians.
Lent and Easter are quite early this year; it's easy to remember because Ash Wednesday will be on February 14 (St. Valentine's Day) and Easter Sunday is April 1 (April Fools' Day). I needed to look online to find that the earliest possible date for Ash Wednesday is February 4, and for Easter its March 22. This doesn't happen very often though; the last time was in 1818 and we won't have the earliest possible Lent and Easter again until 2285. With an early Easter it's easy to let preparations wait until the last minute. With that in mind, I downloaded a book of Lenten reflections in January. It seemed early, but time gets away from me sometimes.
Perhaps time gets away from many of us. We put off doing things until the last minute. That's the reason that the scripture passage from 2 Corinthians spoke to me "Now is the acceptable time. Now is the day of salvation." Now is the time for me to look for ways to become a better Vincentian servant. What will I do this Lent? As good Catholics we pray and fast and give alms. What else can I do as a good Vincentian? Attend a retreat? Try to learn more about my Vincentian family and heritage? Pray for the poor and our benefactors? Make Blessed Rosalie's day a special one? Give more of my time and energy and especially my friendship to those in need and to my fellow Vincentians? Whatever I do, I do with Him who listens and helps me.
Enjoy a blessed Lent!
Denise