The First World Day of the Poor
Little Children, let us love not in word or speech, but in deed and in truth.
1 John 3:18
Let us love God, but let it be with the sweat of our brows and the strength of our arms.
St. Vincent de Paul
Pope Francis has declared that the Church will celebrate the first World Day of the Poor as a conclusion to the Jubilee of Mercy.  This year it will be celebrated on Sunday, November 19, the 33rd Sunday in Ordinary Time.  I re-read the Holy Father's message and some parts spoke to me:
 "I invite the whole Church, and men and women of good will everywhere, to turn their gaze on this day to all those who stretch out their hands and plead for our help and solidarity….  This day is meant to encourage believers to react against a culture of waste, and to embrace a culture of encounter." 
Vincentians everywhere applauded Pope Francis for declaring World Day of the Poor.  For us, every day is a Day of the Poor.  We meet our friends and neighbours who need us in person-to-person contact every single day in cities and towns, prisons and shelters, around the world.  But can we do more?   
Again from Pope Francis: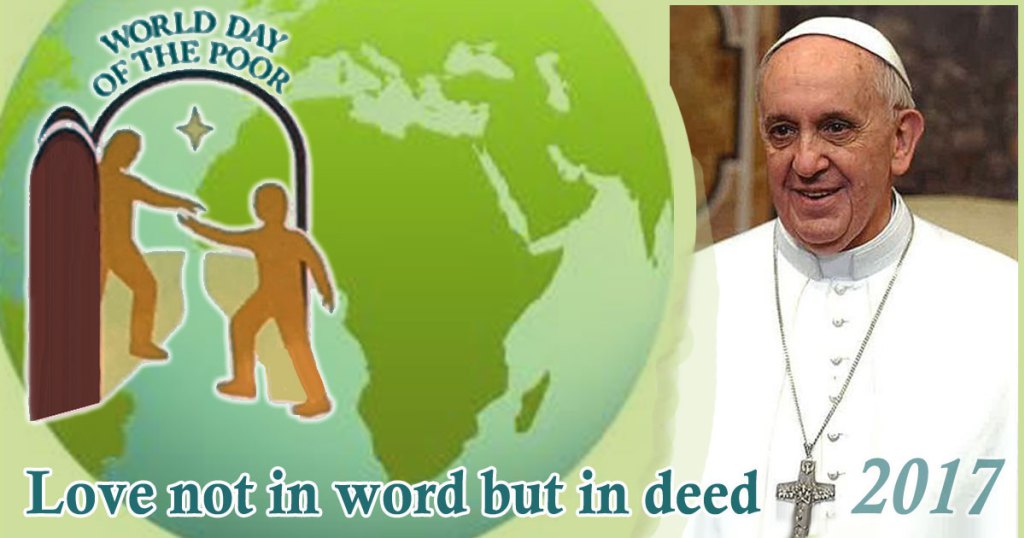 "It is my wish that in the week preceding the World Day of the Poor…Christian communities will make every effort to create moments of encounter and friendship, solidarity and concrete assistance….  Invite the poor and volunteers to take part in the Eucharist on this Sunday…  if there are poor people where we live who seek protection and assistance, let us draw near to them… let us welcome them as honoured guests at our table; they can be teachers who help us live our faith more consistently."
"At the heart of all of the many concrete initiatives carried out this day should always be prayer.  Let us not forget that the Our Father is the prayer of the poor….  The bread for which we ask is 'ours' and that entails sharing, participation and joint responsibility."
As Vincentians, we are called to serve Christ in His poor.   We do it quietly and consistently.  Sometimes we are frustrated because we keep plugging away without seeing many results.  World Day of the Poor is an affirmation for us.  The message is:  Good work!  Keep it up!  But there is also a challenge.  We must find new and innovative ways to serve and to alleviate poverty.  How many of our Conferences can come up with one, new item to add to our repertoire of service to commemorate World Day of the Poor?  It doesn't need to be a major initiative.  The list is endless:
a shared prayer  
commitment that members will celebrate Eucharist together on a certain date each month  
compiling budget-friendly recipe cards to be included with food for home visits  
contacting local schools and offering visits by Vincentians  
a small change challenge after Sunday masses
visits to a place where there are lonely people
Blessed Frederic's personal motto 'Every day, to do a little good' applies to World Day of the Poor and to every day.  Now what will I do today?