Christ The King Cathedral, First Street, Moosonee, Ontario
December 27th, 2017
Hello Michelle and friends,
I must apologize for the lateness of this response to your wonderful work. What can I say, life has been busy. It is a quiet time right now with Christmas over and many people out of town visiting family and friends and stocking up on supplies.
Firstly, we should thank the good people at Great North Building Supplies for donating their kind and generous help in transporting the clothing you sent over to the church. My back thanks them especially: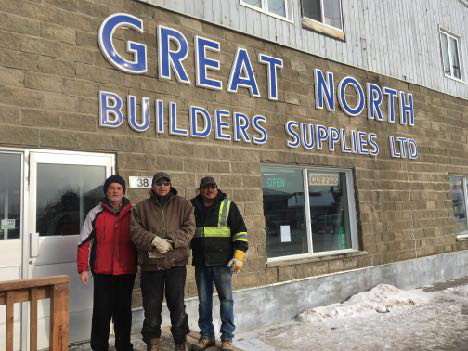 We hosted the "Winter Clothing / Boots Distribution" right away to help families with the cold:
Christ The King Cathedral
Winter Clothing/Boots Distribution
Sunday November 19th, 2017
12:30 pm until 3:00 pm
There are coats, snowpants, snowsuits, hats, mits and snowboots of various sizes for children and adults that have been donated to help the members of our community.

Please enter by the front left corner basement door.
Here's our team working hard to get things ready:

I am not exaggerating when I say that most of it was gone in under 5 minutes:


As we stood back and watched in joy and amazement! Your gift in action!
Then, with the food that you sent, we held a "Soup Kitchen" for the needy of the community, but of course all were welcome:
Christ The King Cathedral
Soup Kitchen
Saturday November 25th, 2017
11:00 am until 1:00 pm
Soup, bannock, a jello desert, and juice will be served.
Please enter by the front left corner basement door
Here are some photos of the community enjoying your kind gift. It may not be readily obvious from the photos but some of these people are desperately in need and came back for more:

And of course a little camaraderie was shared as well by members of our parish. Mayor Wayne Taipale stopped by to say thank you (middle picture with Father Paul looking on in the background):

Bishop Robert Bourgon stepped in to make sure people had warm clothing before they left:

I hope this shows the good work you have done and the good work yet to come.
Thank you and God bless you all.
Sincerely, the Christ The King Cathedral Parish