After a successful growing season in the spring and summer of 2019 members from the Saint George conference in London have started two new garden projects in Byron. The fresh vegitables were really appreciated by our neighbours in need.
A - Vinnie's Garden
From Martha, who coordinates the enterprise to other SG members:
We had 11 volunteers help till, weed, plant and water our garden on Saturday morning. We started at 8am and we were all done by 11:30, just as it started to rain. The small miracle of rain on our fresh crops. Thanks everyone who were able to help and will continue to help ,water and weed throughout the growing season. Thanks Joan for organizing the planting and shopping for the plants. Anyone wishing to water can pop over, the gate is often unlocked and we are on the corner of Logan Run and Link Way in Riverbend. Anyone wishing to help, please let me know, and I will give you all the ins and outs of the garden. Pray for rain and sun together to help our crops grow and provide for those in need in our community.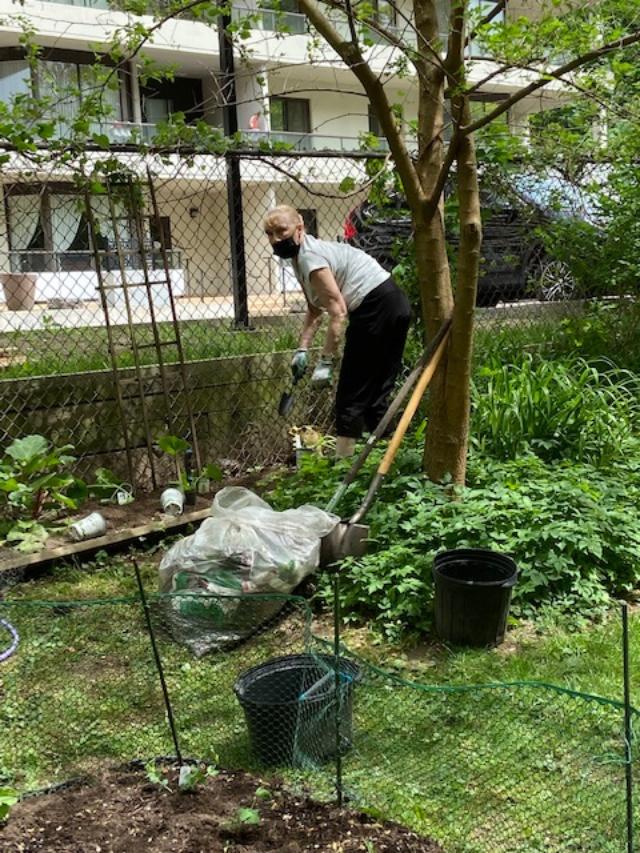 B - Friendship Garden
Most of our recipients came from one specific seniors building on Commissioners road, and so the idea was suggested to plant a garden in the on the grounds behind the appartment building. That of course involved a lot of red tape and the obtaining of permissions. However they were allowed to start a garden dubbed the "Friendship Garden". This quickly generated an audience, and locals who wanted to help out.
From Brian, our president:
Wednesday, May 26th was a fun day that began with selecting a variety of veggies at Parkway Gardens and wondering if the rain would deter us from planting in the afternoon. It didn't and a small group of enthusiastic residents joined us in planting our first Friendship Garden. A couple of others cheered us on and said that they would help out with the watering. The sun came out just as we were finishing up and so ended our newest experience with our local Friends. This is a great project in so many ways. It will help feed those in need as well as a great social at a time people really need it. Great work, Tree and Angie! Thanks to Cameron from STA and Chris from St.George School for helping as well.