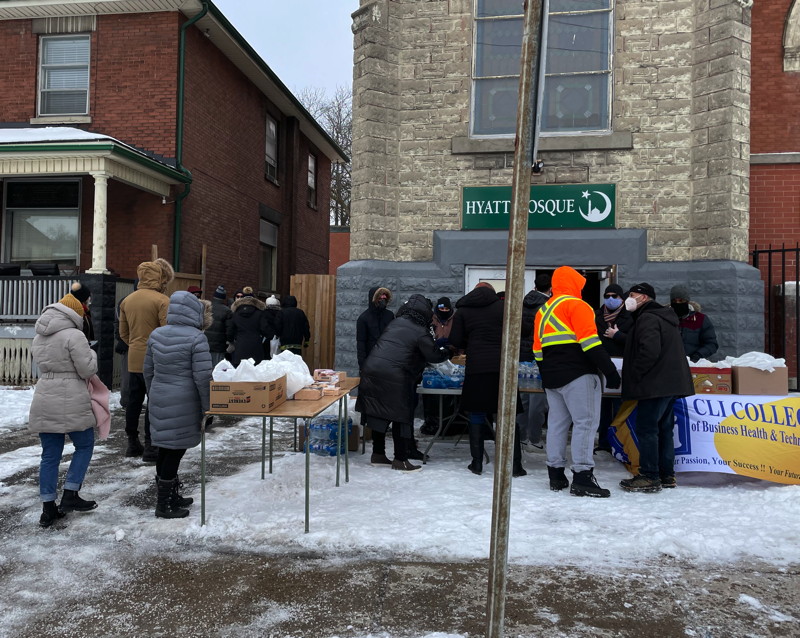 Cover Me with Love
On Saturday Jan 22nd, we joined the Muslim Soup Kitchen (MSK) on Hamilton road to give out coats and winter items. We arrived at 12:30 and there was already a line up for food to be served at 1pm. We set up in the driveway at the Mosque and they were amazed at the amount of items we brought. MSK was a great group to work with. They served a delicious chicken and rice dinner along with soup and a drink. We had purchased gloves, hoodies, long underwear and sanitary products to to boost our supplies and all were given out. There seems to be a high demand for gloves.
I would like to thank the St Georges Knights of Columbus for donating 60 new winter coats to hand out this winter. I would also like to thank the 15 volunteers who came out and braved the cold to help serve. Special thanks to those who helped serve a lady who showed up in slippers looking for boots. We had to run to the store to get her a pair in her size. Also a car load of items went to LHSC Emergency to stock up their supplies and another car load to Anova woman shelter.
A wonderful job was done by all.
Brian
St. George Conference
London, ON